GUM DISEASE / PERIODONTITIS TREATMENT
Leading Gum Disease Treatment in Harrow, Middlesex.
Gum disease is among the leading causes of tooth loss, yet is often ignored by patients until it has become an issue. Fortunately, if caught early, gum disease can be treated and stabilised depending on how far it has progressed. Streatfield Dental offers leading periodontal treatments to treat  gum disease and leave you with a healthier mouth and smile.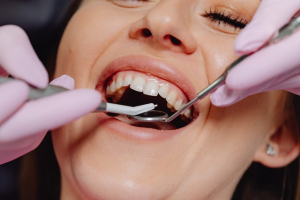 We are committed to providing the highest standard of gum disease treatment at our practice in Harrow. We have the expertise, skill and knowledge to safely treat your gums and leave you with healthier & stronger teeth and gums.
Following an initial examination we will advise the most appropriate treatment for your gums. Generally, treatment will involve our dental therapists or periodontist (gum specialist). The clinician you will be referred to will be dependant  on the severity, complexity & progression of your gum disease.
Once the initial procedure is completed, we will give you personalised advice on how you can clean more effectively around your teeth and gums using toothbrushes and interdental aids.
Why Choose Streatfield Dental for Periodontal Treatment?
Clinicians with experience in periodontal care
Personalised advice, tailored to your dental health needs.
Clear guidance and treatment plans
Transparent costs with no hidden extras.
Committed to safety and patient care.
Family friendly and professional service.
Link to: Contact Us
Book a Periodontal Consultation at Streatfield Dental now and improve the health of your gums.
Book a consultation
Frequently asked questions
What is Gum Disease?
Gum disease, also known as periodontal disease, is caused by a film of bacteria that forms on the surface of teeth known as plaque.
If plaque accumulates it hardens and becomes calculus (tartar). This build up causes gums to become red, swollen and inflamed, and the bone which holds the teeth can become weak and wear away, If left untreated this can lead to a variety of issues including tooth loss.
What Are the Signs of Gum Disease?
Here are some of the most common symptoms associated with gum disease:
Bleeding gums, particularly during brushing or eating hard foods.
Consistent bad breath or a bad taste in the mouth.
Receding Gums
Increased sensitivity to hot and cold
Later stages of gum disease may cause gaps to appear between your teeth.
What Causes Gum Disease?
Gum disease can be caused by a range of different things, but poor oral hygiene is often the most common cause.
Irregular brushing, ineffective brushing and lack of flossing or cleaning in between your teeth will eventually lead to some form of gum disease.