Achieve that Hollywood Smile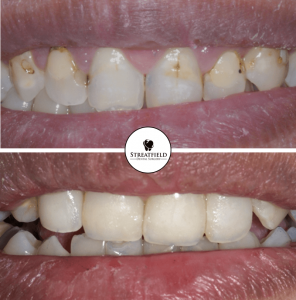 Dental veneers are custom-made, thin shells of tooth-coloured material that are designed to cover the front surface of the teeth, veneers are ideal for restoring stained, chipped or crooked front teeth – revitalising your smile and dental health.
When we design veneers for a patient we will always do an accurate colour match and ensure the shape of your veneers matches your surrounding teeth so that we achieve the most natural-looking smile. We can change the colour, shape, size and length of the veneers to match your existing teeth.
At Streatfield Dental we always offer clear personalised advice on what the best treatment is for you and will always talk you through any procedure we carry out.
Why Choose Streatfield Dental for Veneers?
Leading cosmetic dental treatments in Harrow
Experienced in a range of cosmetic and general treatments
Clear advice and treatment plans
Transparent costs with no hidden extras.
Committed to safety and patient care.
Family-friendly and professional service at a local practice.
As with all of our treatments, we aim to provide all of our patients with excellent dental care in a relaxing environment
Link to: Contact Us
Repair your smile with Dental Veneers at Streatfield Dental
Book a consultation
Frequently asked questions
Why would I need veneers?
Dental veneers can help with a range of problems, including:
Chipped or broken teeth.
Stained teeth
Misaligned or irregularly shaped teeth.
Gaps between your teeth.
What are dental veneers made from?
There are two types of materials that are typically used for dental veneers: Porcelain and Composite.
Composite veneers are made from a tooth-coloured resin (similar to that used for tooth fillings).
Porcelain is a type of glass that is highly resistant to stains.
How long do dental veneers last?
If you look after your porcelain veneers well they will last between 10-20 years, while composite veneers will last between 3-10 years. However, this depends on your own dental hygiene routine and can vary from patient to patient. Make sure that you continue to see your dentist regularly. Good communication between you and your dentist will ensure that your veneers last as long as possible and that your natural teeth and gums remain healthy.
How do I care for my dental veneers?
Veneers can be cared for much like your own teeth – brushing and flossing twice a day is essential. Avoiding large quantities of food that will stain as well as stopping smoking will also help your veneers look better for longer.