Invisalign Clear Aligners
INVISALIGN® CLEAR ALIGNERS
Invisalign Open Day: Saturday 16th July 2022
Sign-up to our open day to receive £5oo off Invisalign Treatment
Get a free consultation & 3D Smile Simulation to see how your smile could look after having Invisalign!
Book Your Consultation Now 0208 204 9485
Invisalign Clear Aligners for Straighter Teeth
Straighten your teeth with Invisalign braces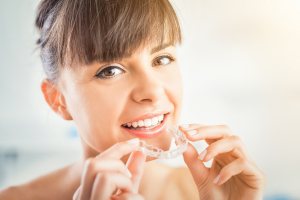 Invisalign clear aligners are nearly invisible cosmetic braces that correct crowded and misaligned teeth to provide a straighter smile. Millions of people across the country have used this treatment to get the smile they've always wanted.
Clear aligners have become one of the most popular treatments for straightening teeth among adults – not only for the fantastic results, but also because they are practically invisible to other people. They are a revolutionary cosmetic alternative to traditional metal braces.
Below you can see how Invisalign aligners have moved and straightened teeth to improve alignment and give the patients the smile they always wanted.
Invisalign braces use a series of transparent aligners made from thin clear plastic that fit perfectly onto your teeth. As well as being hard to see when wearing, they can also be easily removed for brushing, flossing, and eating.
Contact our practice in Harrow, Middlesex today for more information on how clear aligners can help you get the smile you've always wanted.
TRY A NEW INVISALIGN SMILE IN 60 SECONDS.
Click on the button below and follow the instructions
Frequently asked questions
What is Invisalign Aligner Treatment?
This treatment is the process of wearing clear aligners which will straighten your teeth over time. Similar to traditional braces but with no brackets, wires or any major restrictions on your daily life.
How will clear aligners straighten my teeth?
After creating a unique treatment plan that maps out your teeth, your aligners will be designed to fit perfectly to your teeth. they will then apply the right amount of force to the right places to straighten your teeth, reduce overcrowding and improve crooked teeth.
Are the aligners visible when I'm wearing them?
No! While wearing your aligners they will be nearly invisible and it will be difficult for others to know that you are wearing them.
Can I take my aligners off whenever I need to?
Invisalign aligners can be removed completely so you are not limited at all for eating, drinking or while cleaning your teeth.
Why Choose Streatfield Dental for Invisalign Clear Aligners?
Leading provider of Invisalign
Dentists experienced in Orthodontics
Clear advice and treatment plans
Transparent costs with no hidden extras.
Committed to safety and patient care.
Family-friendly and professional service at a local practice.
As with all of our treatments, we aim to provide all of our patients with excellent dental care in a relaxing environment
Link to: Contact Us
Transform your smile now at Streatfield Dental with Invisalign Clear Aligners.
Book a consultation